CH. LINROSA'S PAINT BY NUMBERS (Pedigree)
BISS, Can. Am. Ch. Vanderbilt's Warpaint x Ch. Vanderbilt's Moonlight Magic


Saje is a beautiful girl who matured and blossomed far beyond our expectations. Her happy-go lucky attitude, lovely head and correct coat have earned her several compliments from the judges. Saje's owners describe her as an easy, and layed back kind of girl. Saje is famous for her "woo woos" and enjoys having the last word in every conversation. When she came to live with me for training, I too came to love her famous "woo woos".
Saje was first shown during the summer of 2004. She was then left home to mature while her sister "JJ" was "burning up the mats." In May 2005, shown by novice handler Gerald Roulson, Saje won Best of Breed and went on to a Group 3rd, proving to everyone that, "Yes, I can play this game too!" Two weekends later, Saje finished her Canadian Championship. Saje is number five out of the Heero x Keisha litter to earn her Canadian Championship.
******************************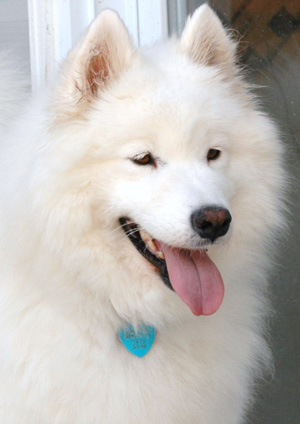 Saje - July 2009


SHOW CAREER
August 5th, 2006 - In Oromocto, NB two Canine Federation Canada (FCI rules) shows were held. Congrats to my father, Gerald Roulston, who won BB/Group 1 and received an Excellent rating on his Heero x Keisha girl "Saje (Ch. Linrosa's Paint By Numbers) under j. Dennys Janssen (Columbia); "Shamus" (Ch. Vanderbilt's Moonsplitter) was BOS - also with an excellent rating.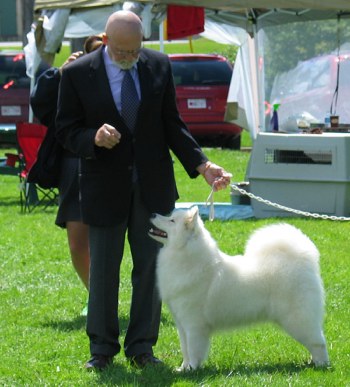 Gerald Roulston and Saje
Group 1st
June 18th, 2005 - At the Abeqweit Kennel Club in PEI, Gerald Roulston showed Saje under judges Davida Brown (New Zealand) and Jocelyne Croad (Australia) and finished her Canadian Championship.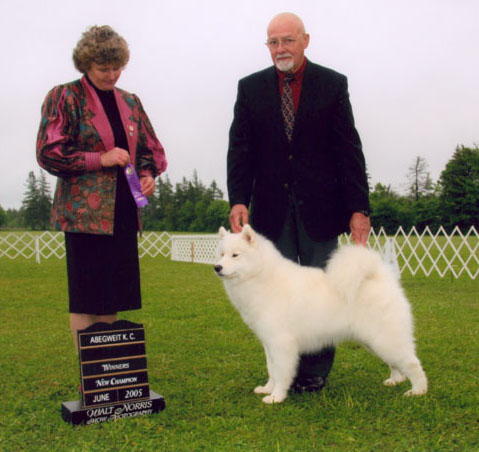 Saje and Gerald Roulston
New Champion. Charlottetown, PEI
Thank you Judge Davida Brown
June 11/12th 2005 "Saje", handled by Gerald Roulston, won WB on Sunday for one point under j Letita Betts, and took WB/BB for another point under j. Peter Machen.
May 7th, 2005 - At the Moncton, NB shows, "Saje" wins WB/BW/BB/Group 3rd for a 3 point day under j. Sue Ellen Rempell. This win was a team effort; my Father, Gerald Roulston, handled Saje to the breed win and then Saje and I went in for group. Way to go Dad, I'm proud of you!!!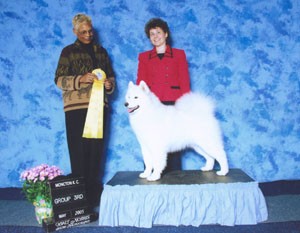 July 23-25, 2004 - Saje earns her first point taking WB under j. Leslie Rogers at the Fredericton Kennel Club show. On July 25th, under j. George McMurrray, she wins WB again for her second point.
**************************************************
Pedigree for Linrosa's Paint By Numbers
+--- BIS BISS Am. Ch. Ice Way's Ice Breaker
+--- Can. Ch. Polar Mist Break the Bank (USA)(1042626)
| +--- Am. Can. Ch. Polar Mist Saucy Minx (USA)(1012747)
+--- Can. Ch. Vanderbilt's Breakin' Trail(BN114937)
| | +--- Am. Ch. Wolf River's Falcon(1045121/WF945061)
| +--- Can. Ch. Wolf River's High as a Kite(10431292/WP352803)
| +--- BIS Am. Ch. Wolf River's Terra(WF438967)
+--- Am.Can.Ch. Vanderbilt's True Lee(JG585632)
| | +--- Am. Ch. Sparrow Hill's Taakowah
| | +--- Am. Ch. Wolf River's Siberian Taiga(WF746897)
| | | +--- Am. Ch. Wolf River's Ruffian CD
| +--- Can. Ch. Wolf River's Vanderbilt Mesa,ROM(1055361)
| | +--- Am. Ch. Wolf River's Drumlin(1045122/WE612779)
| +--- Am. Ch. Wolf River's Fata Morgana(WP344212/01)
| +--- Am. Ch. Seamist's Raven of Wolf River(WF483511)
+--- BISS Am.Can.Ch. Vanderbilt's Warpaint(LN740479)
| | +--- Am. Ch. Wolf River's Star(WD247802)
| | +--- Am. Ch. Wolf River's Falcon(WF945061)
| | | +--- Am. Ch. Seamist's Raven of Wolf River(WF483511)
| | +--- Am.Can.Ch. Vanderbilt's Secretariat TT,CGC,TDI, Multi BIS(VN723526)
| | | | +--- Can. Ch. Shebaska's Gem Print(PC286285)
| | | +--- Can. Ch. Shebaska's Vanderbilt Kipmetna(SN525084)
| | | +--- Can. Ch. Shebaska's Toja At Samsu CD(NA219497)
| +--- Can. Ch. Vanderbilt's Live It Up(HG518693)
| | +--- Am. Ch. Sanorka's Venture T'Northwind
| | +--- Am. Can. Ch. Mystical's Stolen Memory
| | +--- Am. Ch. Mystical's Sweet Bit O'Fantasy
| +--- Can. Ch. Mystical Marla of Vanderbilt,ROM(1054498)
| | +--- Am. Ch. Sanorka Silver Sabre O'Risuko
| +--- Am. Ch. Risuko's Mystical Charisma
| +--- Risuko's Sweetest Taboo
CH. LINROSA'S PAINT BY NUMBERS "SAJE"
| +--- BISS BIS Am. Ch. Risuko's Mister Moonlight(WF264427)
| +--- Am. Ch. Sanorka's Moonlight Gambler(WG107479)
| | +--- Am. Ch. Sanorka's Maiden Northwind
| +--- Am. Ch. South'n Mist Headin' For A Heartbreak
| | +--- Am. Ch. Christori's Splendid Sparkler
| | +--- Am. Ch. White Magic's Margarita Mandy
| | +--- Am. Ch. Casablanca's Dash of Panache(WF605834)
| +--- Am. Ch. Echo's Just A Dreamer
| | | +--- Am. Ch. Wolf River's Drumlin(1045122/WE612779)
| | | +--- Am. Ch. Saratoga's Speed of Sound(WG531015)
| | | | +--- Am. Ch. Elmfield's Saratoga Sage(WF667457)
| | +--- Am. Ch. Artic Mist's Golden Sunrise
| | | +--- Am. Ch. Trailblazer's Circuit Breaker
| | +--- Am. Ch. Elmfield's Artic Mist
| | +--- Elmfield's Autumn Delight
+--- Can. Am. Ch. Vanderbilt's Moonlight Magic
| +--- Am. Ch. Wolf River's Falcon(WF945061)
| +--- Am.Can.Ch. Vanderbilt's Secretariat TT,CGC,TDI, Multi BIS(VN723526)
| | +--- Can. Ch. Shebaska's Vanderbilt Kipmetna(SN525084)
| +--- Can. Ch. Vanderbilt's Krash Of Thunder CD AAD(CL181202)
| | | +--- Am. Ch. Wolf River's Falcon(1045121/WF945061)
| | +--- Can. Ch. Wolf River's High as a Kite(10431292/WP352803)
| | +--- BIS Am. Ch. Wolf River's Terra(WF438967)
+--- Can. Ch. Vanderbilt's Rock Anthem(GL440577)
| +--- Am. Ch. Sparrow Hill's Taakowah
| +--- Am. Ch. Wolf River's Siberian Taiga(WF746897)
| | +--- Am. Ch. Wolf River's Ruffian CD
+--- Can. Ch. Wolf River's Vanderbilt Mesa,ROM(1055361)
| +--- Am. Ch. Wolf River's Drumlin(1045122/WE612779)
+--- Am. Ch. Wolf River's Fata Morgana(WP344212/01)
+--- Am. Ch. Seamist's Raven of Wolf River(WF483511)
produced by The Breeder's Standard by Man's Best Friend Software -- 1-800-746-9364