CH. LINROSA's WIZARD OF OZ GAME (Pedigree listed below)
CAN. CH. VANDERBILT'S MOONSPLITTER
x CAN. CH. LINROSA'S MOONLIGHT SERENADE

Ozzie, although slow to to mature, has developed into a gorgeous typey, 23 inch male offering good bone, proper leg length, nice arch of neck, exceptional shoulder angulation and a clean moving rear. His brother Dexter (Ch. Linrosa's Life's Just a Game), is also a lovely male Samoyed. For more information, see his webpage.
On the September 7-8 weekend, Ozzie becomes a new champion at the Miramichi shows, winning BB x 3 under judges Mary White (cut in group), Tom Burke, and Richard Fehler.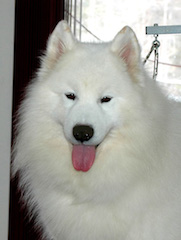 Ozzie 2013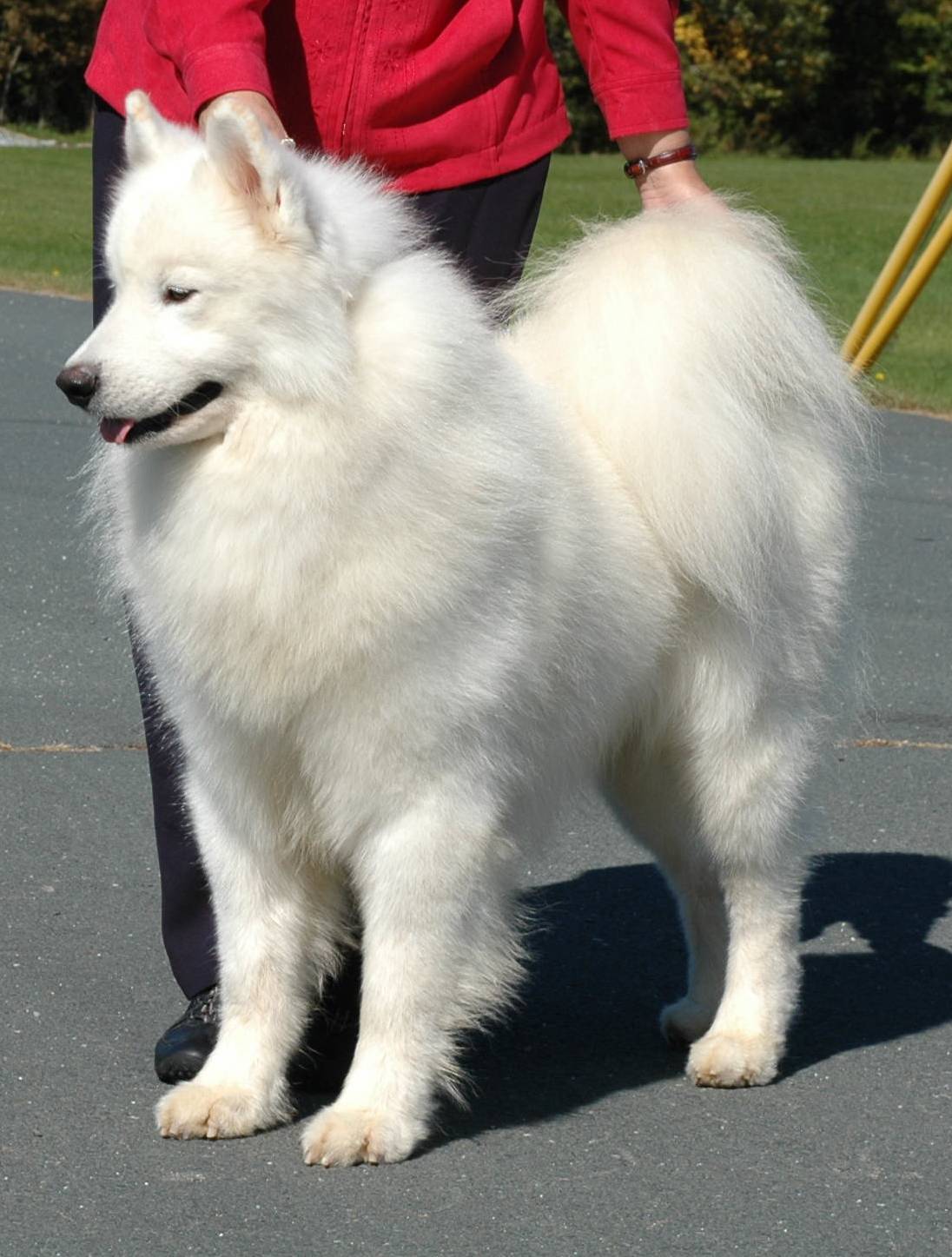 Miramichi shows September 2011
New Champion - Judge: Richard Fehles
At the Fredericton Kennel Club shows, July 2011,Ozzie came home with 7 points.
July 29, 2011 - Judge Marilyn Foulds awards Ozzie WM and BW (2 points)
July 30, 2011 - Under Judge Edward Gilbert Ozzie wins WM and BOS (2 points).
August 1, 2011 - On the final day of the shows, Judge Richard McCoy awards Ozzie WM/ BW/BB (2 points). When competing in Group, judge John Forbes gives Ozzie a Group 4th win (one point).
\
FKC 2011,
Judge John Forbes - Gr 4th

OZZIE AS A PUPPY
| | |
| --- | --- |
| Day 51 | Day 51 |
| Day 65 | November 8, 2009 |
| November 8, 2009 | November 8, 2009 |
| 4.5 months | December 2010 |
**************************************************
Pedigree for Ch. Linrosa's Wizard of Oz Game
+--- Am. Ch. Sanorka's Sir Lancelot
+--- Am. Ch. Sanorka Silver Sabre O'Risuko
| +--- Am. Ch. Sanorka's Magic Charm
+--- Can. Ch. Hyalite Cuttinedge Snowghost
| | +--- BISS BIS Can. Am. Ch. Snowghosts Go Better With Coke
| +--- Can. Ch. Hyalite's Classical Jazz
| +--- Can. Ch. Hyalite's Royal Tee
+--- Can. Ch. Snowghosts Rockabilly Rebel
| | +--- Can. Ch. Brydawns Cyan Snow Ghost
| | +--- BISS BIS Can. Am. Ch. Snowghosts Go Better With Coke
| | | +--- Can. Ch. Tuscany's Silver Fantasy CD
| +--- Can. Ch. Snowghosts Coquette
| | +--- Can. Am. Ch. Orenopac's Mogul CD
| +--- Can. Ch. Snowghosts Walkin In Hi Cotton
| +--- Can. Ch. Tuscany's Silver Fantasy CD
+--- Ch. Vanderbilt's Moonsplitter
| | +--- Am. Ch. Wolf River's Falcon
| | +--- Am.Can.Ch. Vanderbilt's Secretariat TT, CGC, TDI, Multi BIS
| | | +--- Can. Ch. Shebaska's Vanderbilt Kipmetna
| | +--- Can. Ch. Vanderbilt's Krash Of Thunder CD AAD
| | | | +--- Am. Ch. Wolf River's Falcon
| | | +--- Can. Ch. Wolf River's High as a Kite
| | | +--- BIS Am. Ch. Wolf River's Terra
| +--- Can. Ch. Vanderbilt's Rock Anthem
| | +--- Am. Ch. Sparrow Hill's Taakowah
| | +--- Am. Ch. Wolf River's Siberian Taiga
| | +--- Am. Ch. Wolf River's Ruffian CD
| +--- Can. Ch. Wolf River's Vanderbilt Mesa
| | +--Am. Ch. Wolf River's Drumlin
| + Am. Ch. Wolf River's Fata Morgana
| + --Am. Ch. Seamist's Raven of Wolf River
CH. LINROSA'S WIZARD OF OZ GAME ("OZZIE")
| +--- BIS BISS Am. Ch. Ice Way's Ice Breaker
| +--- Can. Ch. Polar Mist Break the Bank (USA)
| | +--- Am. Can. Ch. Polar Mist Saucy Minx
| +--- Can. Ch. Vanderbilt's Breakin' Trail
| | +--- Am. Ch. Wolf River's Falcon
| | +--- Can. Ch. Wolf River's High As A Kite,ROM
| | +--- BIS Am. Ch. Wolf River's Terra
| +--- Can.Am.Ch. Vanderbilt's True Lee
| | | +--- Am. Ch. Sparrow Hill's Taakowah
| | | +--- Am. Ch. Wolf River's Siberian Taiga
| | | | +--- Am. Ch. Wolf River's Ruffian CD
| | +--- Can. Ch. Wolf River's Vanderbilt Mesa,ROM
| | | +--- Am. Ch. Wolf River's Drumlin
| | +--- Am. Ch. Wolf River's Fata Morgana
| | +--- Am. Ch. Seamist's Raven of Wolf River
+--- Ch. Linrosa's Moonlight Serenade
| +--- Am. Ch. Sanorka's Moonlight Gambler
| +--- Am. Ch. South'n Mist Headin' For A Heartbreak
| | +---White Magic's Margarita Mandy
| +--- Multi BISS Can. Am. Ch. Echo's Just A Dreamer
| | | +--- Am. Ch. Saratoga's Speed of Sound
| | +--- Am. Ch. Artic Mist's Golden Sunrise
| | +--- Am. Ch. Elmfield's Artic Mist
+--- Can. Ch. Vanderbiltís Moonlight Magic
| +--- Am.Can.Ch. Vanderbilt's Secretariat TT, CGC, TDI, Multi BIS
| +--- Can. Ch. Vanderbilt's Krash Of Thunder CD MADC
| | +--- Can. Ch. Wolf River's High as a Kite, ROM
+--- Can. Ch. Vanderbilt's Rock Anthem
| | +--- Can. Ch. Wolf River's Vanderbilt Mesa
| + -- Am. Ch. Wolf River's Siberian Taiga
| | +--- Am. Ch. Wolf River's Ruffian CD
+--- Can. Ch. Wolf River's Vanderbilt Mesa
| +--- Am. Ch. Wolf River's Drumlin
+--- Am. Ch. Wolf River's Fata Morgana
| +--- Am. Ch. Sassillies Merlyn of Vicria
+--- Am. Ch. Seamist's Raven of Wolf River
+--- Am. Ch. Seamist's Lavender and Lace

produced by The Breeder's Standard by Man's Best Friend Software -- 1-800-746