CH. LINROSA'S DIPPED In PAINT (Pedigree below)


BISS, Can. Am. Ch. Vanderbilt's Warpaint
x Can. Am Ch. Vanderbilt's Moonlight Magic, ROMC

Portia is a sweet, elegant and very CUDDLY girl. She was a joy to show!! As a 6 month old puppy she was quick to learn and presented herself to the judges with a calm, cool dignity. She appeared very wise for her age, doing what was asked of her, and didn't bother with all the shenanigans her sisters were famous for. She is a littermate to BISS Ch. Linrosa's Paint By Moonlight, "JJ", "Saje", and the THIRD Heero x Keisha puppy to finish her championship.

Adrianna met Portia and the two created a wonderful bond. A few weeks later Portia went home with her and now resides in Oromocto, NB.

******************************

SHOW CAREER

July 24/25, 2004 weekend - At 9 months of age and very "out of coat", Portia wins WB/BOS for two points to finish her championship under judge Charlotte McGowan (USA) at the Fredericton Kennel Club, NB Shows.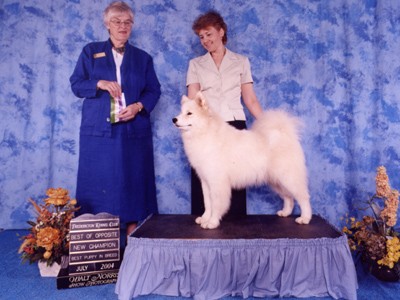 July 9/10, 2004 weekend - Portia, at the Lady Slipper, KC shows in Kensington, PEI wins WB/BW/BB x 2 for 4 points under judges Paul Odinkirchen and Honey Glendinning.
May 28/29, 2004 - Portia, 7 months old, debutes at the Chaleur Canine Club, Beresford, NB shows and wins WB/BW x 2 for 4 points.
**************************************************
January 2007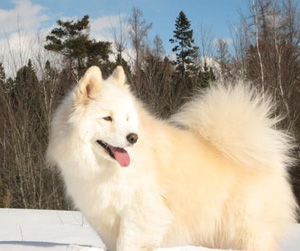 |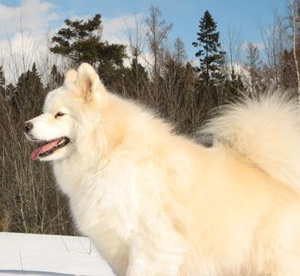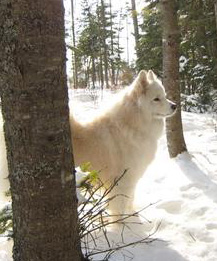 August 2006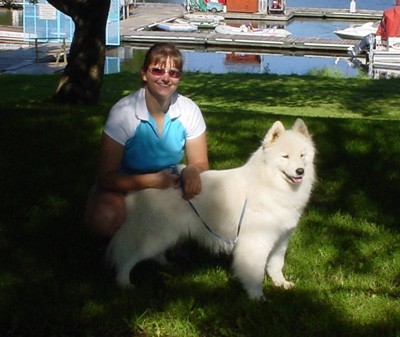 Adrianna and Portia
Hazen Park, Oromocto, NB

July 2006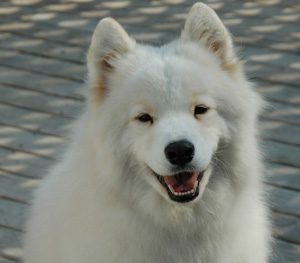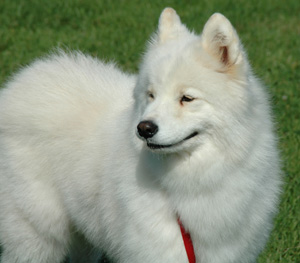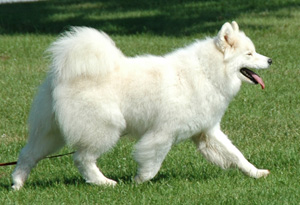 April 2006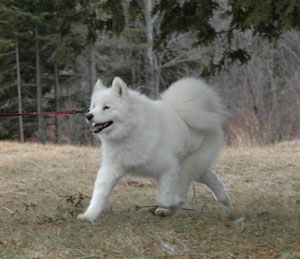 Look at her GO!!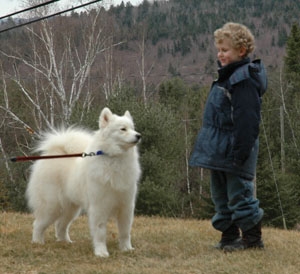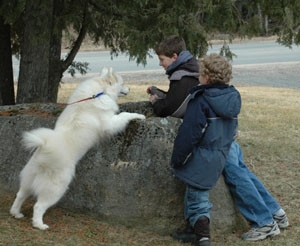 Protia saying "Hi" to some new friends



Taking it easy ....
**************************************************
Pedigree for Ch. Linrosa's Dipped In Paint
+--- BIS BISS Am. Ch. Ice Way's Ice Breaker
+--- Can. Ch. Polar Mist Break the Bank (USA)(1042626)
| +--- Am. Can. Ch. Polar Mist Saucy Minx (USA)(1012747)
+--- Can. Ch. Vanderbilt's Breakin' Trail(BN114937)
| | +--- Am. Ch. Wolf River's Falcon(1045121/WF945061)
| +--- Can. Ch. Wolf River's High as a Kite(10431292/WP352803)
| +--- BIS Am. Ch. Wolf River's Terra(WF438967)
+--- Am.Can.Ch. Vanderbilt's True Lee(JG585632)
| | +--- Am. Ch. Sparrow Hill's Taakowah
| | +--- Am. Ch. Wolf River's Siberian Taiga(WF746897)
| | | +--- Am. Ch. Wolf River's Ruffian CD
| +--- Can. Ch. Wolf River's Vanderbilt Mesa,ROM(1055361)
| | +--- Am. Ch. Wolf River's Drumlin(1045122/WE612779)
| +--- Am. Ch. Wolf River's Fata Morgana(WP344212/01)
| +--- Am. Ch. Seamist's Raven of Wolf River(WF483511)
+--- BISS Am.Can.Ch. Vanderbilt's Warpaint(LN740479)
| | +--- Am. Ch. Wolf River's Star(WD247802)
| | +--- Am. Ch. Wolf River's Falcon(WF945061)
| | | +--- Am. Ch. Seamist's Raven of Wolf River(WF483511)
| | +--- Am.Can.Ch. Vanderbilt's Secretariat TT,CGC,TDI, Multi BIS(VN723526)
| | | | +--- Can. Ch. Shebaska's Gem Print(PC286285)
| | | +--- Can. Ch. Shebaska's Vanderbilt Kipmetna(SN525084)
| | | +--- Can. Ch. Shebaska's Toja At Samsu CD(NA219497)
| +--- Can. Ch. Vanderbilt's Live It Up(HG518693)
| | +--- Am. Ch. Sanorka's Venture T'Northwind
| | +--- Am. Can. Ch. Mystical's Stolen Memory
| | +--- Am. Ch. Mystical's Sweet Bit O'Fantasy
| +--- Can. Ch. Mystical Marla of Vanderbilt,ROM(1054498)
| | +--- Am. Ch. Sanorka Silver Sabre O'Risuko
| +--- Am. Ch. Risuko's Mystical Charisma
| +--- Risuko's Sweetest Taboo
CH. LINROSA'S DIPPED IN PAINT - "Portia"
| +--- BISS BIS Am. Ch. Risuko's Mister Moonlight(WF264427)
| +--- Am. Ch. Sanorka's Moonlight Gambler(WG107479)
| | +--- Am. Ch. Sanorka's Maiden Northwind
| +--- Am. Ch. South'n Mist Headin' For A Heartbreak
| | +--- Am. Ch. Christori's Splendid Sparkler
| | +--- Am. Ch. White Magic's Margarita Mandy
| | +--- Am. Ch. Casablanca's Dash of Panache(WF605834)
| +--- Am. Ch. Echo's Just A Dreamer
| | | +--- Am. Ch. Wolf River's Drumlin(1045122/WE612779)
| | | +--- Am. Ch. Saratoga's Speed of Sound(WG531015)
| | | | +--- Am. Ch. Elmfield's Saratoga Sage(WF667457)
| | +--- Am. Ch. Artic Mist's Golden Sunrise
| | | +--- Am. Ch. Trailblazer's Circuit Breaker
| | +--- Am. Ch. Elmfield's Artic Mist
| | +--- Elmfield's Autumn Delight
+--- Can. Am. Ch. Vanderbilt's Moonlight Magic
| +--- Am. Ch. Wolf River's Falcon(WF945061)
| +--- Am.Can.Ch. Vanderbilt's Secretariat TT,CGC,TDI, Multi BIS(VN723526)
| | +--- Can. Ch. Shebaska's Vanderbilt Kipmetna(SN525084)
| +--- Can. Ch. Vanderbilt's Krash Of Thunder CD AAD(CL181202)
| | | +--- Am. Ch. Wolf River's Falcon(1045121/WF945061)
| | +--- Can. Ch. Wolf River's High as a Kite(10431292/WP352803)
| | +--- BIS Am. Ch. Wolf River's Terra(WF438967)
+--- Can. Ch. Vanderbilt's Rock Anthem(GL440577)
| +--- Am. Ch. Sparrow Hill's Taakowah
| +--- Am. Ch. Wolf River's Siberian Taiga(WF746897)
| | +--- Am. Ch. Wolf River's Ruffian CD
+--- Can. Ch. Wolf River's Vanderbil Mesa,ROM(1055361)
| +--- Am. Ch. Wolf River's Drumlin(1045122/WE612779)
+--- Am. Ch. Wolf River's Fata Morgana(WP344212/01)
+--- Am. Ch. Seamist's Raven of Wolf River(WF483511)
produced by The Breeder's Standard by Man's Best Friend Software -- 1-800-746-9364