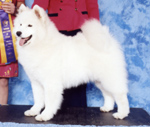 BISS, CAN. AM. CH. LINROSA'S PAINT BY MOONLIGHT (Pedigree)
BISS, Can. Am. Ch. Vanderbilt's Warpaint x
Can. Am. Ch. Vanderbilt's Moonlight Magic, ROMC


"JJ", as a young puppy, showed exceptional promise and has turned out to be an outstanding bitch. She is noted for her correct size, lovely structure and movement, wonderful temperament, and her confidence and showmanship. She loves to show and has been doing amazingly well since her first time in the ring.
******************************
SHOW CAREER
October 29, 2005
"JJ" wins an Award of Merit under judge Lynette Blue at the Samoyed Club of America National held in Owensboro, Kentucky (entry approx 400).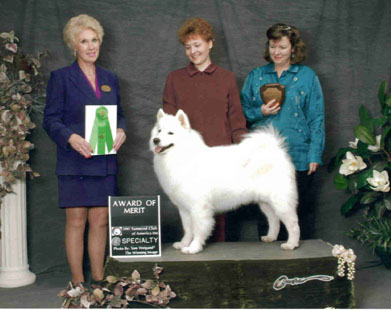 "JJ" and Linda , SCA Specialty, 2005
Thank you breeder judge Lynette Blue

"JJ" and Linda
(photo thanks to Ron Johnson)
May 7th - 8th, 2005 At the Crawford Kennel Club, Bucyrus, OH, "JJ" wins BOS both days under j. Dr. Klaus Anselm and j. Joan Anselm. Congrats to handler Jan Warner.
April 24th, 2005 - At Timmonium, MD (Potomac Valley Samoyed Club Specialty Weekend), "JJ" takes WB/BW for another 5 point major under j. Mrs. Joan Scott to finish her American Championship with three big majors (4+5+2+5). Once again, a sincere thank you to Jan Warner for showing her to such an impressive win!!!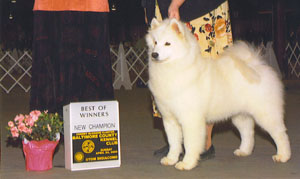 April 2nd, 2005 - At Western Pennsylvania Kennel Association, Jan Warner showed JJ to WB/BOW earning 2 pts under judge Michelle Billings.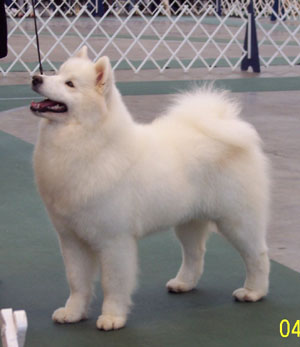 December 10th-12th, 2004 "JJ", at 14 months of age, attended her FIRST US all-breed shows held in Cleveland, Ohio and won *TWO BIG MAJORS" (4 and 5 pointers) including going BOS over Specials. Thank you j. Virginia Lyne and j. Edward Noe. Also, HUGE thanks to Jan Warner for showing "JJ" so well!!!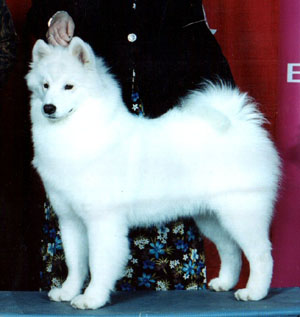 September 2004 - At the SCA National (Topeka, Kansas), "JJ" wins the 9-12 puppy bitch Sweepstakes class (entry 33) under judge Wade Koistenin.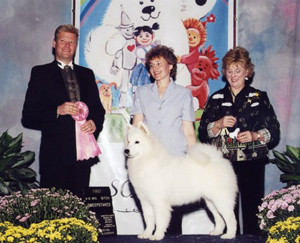 Linda and "JJ"
Topeka, Kansas

May 2004 - SAC National Specialty, under judge Lynette Blue, 7 month old "JJ", wins WB + BW + BP, and goes on to BISS for 5 points. I handled her to WB and then proudly passed her over to friend, Charlene Smith, while I handled my Special. Many thanks to Charlene for doing such a wonderful job.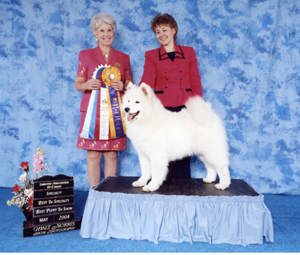 On the day after the National, "JJ" again wins from the classes and goes on to take BB at the Dartmouth, NS all breed show. She finishes her championship with a Group 3, for 5 more points, and a BPIG.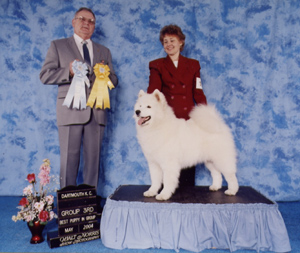 ********************************************
"JJ" - 7 MONTHS OLD

**************************************************
Pedigree for Linrosa's Paint By Moonlight
+--- BIS BISS Am. Ch. Ice Way's Ice Breaker
+--- Can. Ch. Polar Mist Break the Bank (USA)(1042626)
| +--- Am. Can. Ch. Polar Mist Saucy Minx (USA)(1012747)
+--- Can. Ch. Vanderbilt's Breakin' Trail(BN114937)
| | +--- Am. Ch. Wolf River's Falcon(1045121/WF945061)
| +--- Can. Ch. Wolf River's High as a Kite(10431292/WP352803)
| +--- BIS Am. Ch. Wolf River's Terra(WF438967)
+--- Am.Can.Ch. Vanderbilt's True Lee(JG585632)
| | +--- Am. Ch. Sparrow Hill's Taakowah
| | +--- Am. Ch. Wolf River's Siberian Taiga(WF746897)
| | | +--- Am. Ch. Wolf River's Ruffian CD
| +--- Can. Ch. Wolf River's Vanderbilt Mesa,ROM(1055361)
| | +--- Am. Ch. Wolf River's Drumlin(1045122/WE612779)
| +--- Am. Ch. Wolf River's Fata Morgana(WP344212/01)
| +--- Am. Ch. Seamist's Raven of Wolf River(WF483511)
+--- BISS Am.Can.Ch. Vanderbilt's Warpaint(LN740479)
| | +--- Am. Ch. Wolf River's Star(WD247802)
| | +--- Am. Ch. Wolf River's Falcon(WF945061)
| | | +--- Am. Ch. Seamist's Raven of Wolf River(WF483511)
| | +--- Am.Can.Ch. Vanderbilt's Secretariat TT,CGC,TDI, MultiBIS(VN723526)
| | | | +--- Can. Ch. Shebaska's Gem Print(PC286285)
| | | +--- Can. Ch. Shebaska's Vanderbilt Kipmetna(SN525084)
| | | +--- Can. Ch. Shebaska's Toja At Samsu CD(NA219497)
| +--- Can. Ch. Vanderbilt's Live It Up(HG518693)
| | +--- Am. Ch. Sanorka's Venture T'Northwind
| | +--- Am. Can. Ch. Mystical's Stolen Memory
| | +--- Am. Ch. Mystical's Sweet Bit O'Fantasy
| +--- Can. Ch. Mystical Marla of Vanderbilt,ROM(1054498)
| | +--- Am. Ch. Sanorka Silver Sabre O'Risuko
| +--- Am. Ch. Risuko's Mystical Charisma
| +--- Risuko's Sweetest Taboo
BISS CAN. AM. CH. LINROSA'S PAINT BY MOONLIGHT, "JJ"
| +--- BISS BIS Am. Ch. Risuko's Mister Moonlight(WF264427)
| +--- Am. Ch. Sanorka's Moonlight Gambler(WG107479)
| | +--- Am. Ch. Sanorka's Maiden Northwind
| +--- Am. Ch. South'n Mist Headin' For A Heartbreak
| | +--- Am. Ch. Christori's Splendid Sparkler
| | +--- Am. Ch. White Magic's Margarita Mandy
| | +--- Am. Ch. Casablanca's Dash of Panache(WF605834)
| +--- Am. Ch. Echo's Just A Dreamer
| | | +--- Am. Ch. Wolf River's Drumlin(1045122/WE612779)
| | | +--- Am. Ch. Saratoga's Speed of Sound(WG531015)
| | | | +--- Am. Ch. Elmfield's Saratoga Sage(WF667457)
| | +--- Am. Ch. Artic Mist's Golden Sunrise
| | | +--- Am. Ch. Trailblazer's Circuit Breaker
| | +--- Am. Ch. Elmfield's Artic Mist
| | +--- Elmfield's Autumn Delight
+--- Can. Am. Ch. Vanderbilt's Moonlight Magic, ROMC
| +--- Am. Ch. Wolf River's Falcon(WF945061)
| +--- Am.Can.Ch. Vanderbilt's Secretariat TT,CGC,TDI, Multi BIS(VN723526)
| | +--- Can. Ch. Shebaska's Vanderbilt Kipmetna(SN525084)
| +--- Can. Ch. Vanderbilt's Krash Of Thunder CD AAD(CL181202)
| | | +--- Am. Ch. Wolf River's Falcon(1045121/WF945061)
| | +--- Can. Ch. Wolf River's High as a Kite(10431292/WP352803)
| | +--- BIS Am. Ch. Wolf River's Terra(WF438967)
+--- Can. Ch. Vanderbilt's Rock Anthem(GL440577)
| +--- Am. Ch. Sparrow Hill's Taakowah
| +--- Am. Ch. Wolf River's Siberian Taiga(WF746897)
| | +--- Am. Ch. Wolf River's Ruffian CD
+--- Can. Ch. Wolf River's Vanderbilt Mesa,ROM(1055361)
| +--- Am. Ch. Wolf River's Drumlin(1045122/WE612779)
+--- Am. Ch. Wolf River's Fata Morgana(WP344212/01)
+--- Am. Ch. Seamist's Raven of Wolf River(WF483511)

produced by The Breeder's Standard by Man's Best Friend Software
-- 1-800-746-9364
Keisha