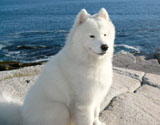 Cheemo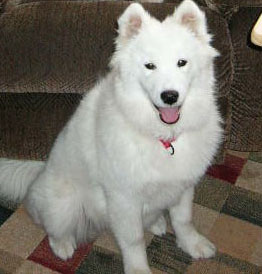 ShitaShiya (5 mths old)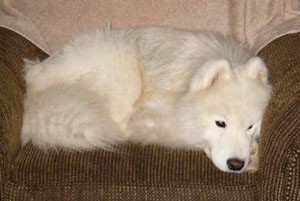 CH. LINROSA'S MOONLIGHT WAR CHANT - Cheemo
BISS, Can. Am. Ch. Vanderbilt's Warpaint x
Can. Am. Ch. Vanderbilt's Moonlight Magic

Cheemo, owned by Mary and Brad Porter, is a stunning Samoyed. Loving all the attention he can get, Cheemo manages to quickly charm everyone who meets him, including the judges. When I first began showing Cheemo, I loved our one-on-one time, but knew he would keep me on my toes when we were in the show ring. Cheemo is an energetic Samoyed and loves to "show off" I laugh remembering the times we were a great source of ringside entertainment. Cheemo often went into "play" mode in the middle of the show ring, but the spectators loved his shenanigans. After a few more training sessions he learned to focus and proved to all of us he could really "SHOW" when he wanted to!!! He finished his championship with ease winning several BOB and Group placements.
May 1st + 2nd, 2004 - At the Moncton Kennel Club, Cheemo takes WD/BW for 2 points under j. Terry Carter. Second day, Cheemo under j. Phyllis Wolfish, wins WD/BW/BB (over Special) for 2 more points and a cut in Group.
May 15th, 2004 - Cheemo earns 3 more points at the Dartmouth Kennel Club all breed show.
June 11 + 13, 2004 - Finishing his championship, Cheemo goes BB and earns a GROUP 4th under j. Harold Hutchinson. Oromocto Kennel Club, Oromocto, NB.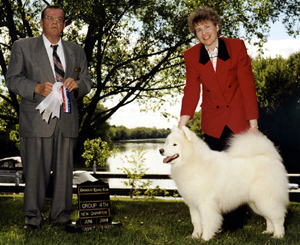 November 13th + 14th, 2004 - Cheemo wins a GROUP 2nd under j. Mary Spinelli at the Moncton, NB show. Thanks to Charlene Smith for handling him to this wonderful win!! The next day Cheemo wins BOB and a cut in group under j. Roger Hartinger.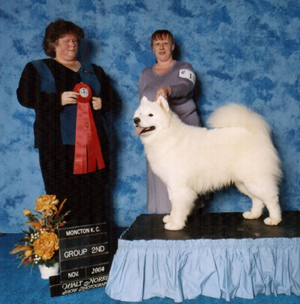 ***********************************************
CHEEMO GROWS UP!!!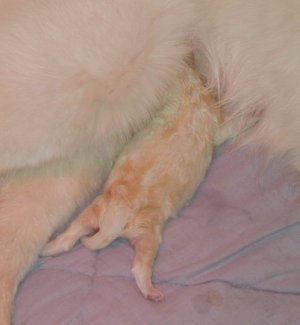 A singleton male pup - minutes old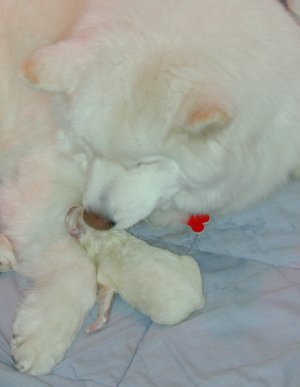 Keisha cleaning him up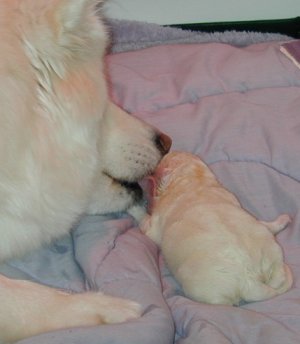 1.5 hours old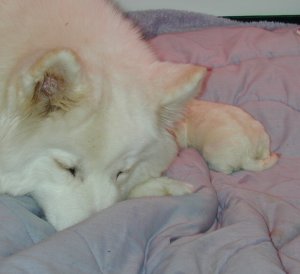 Napping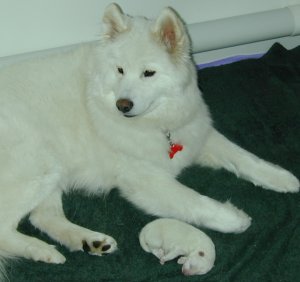 Day 2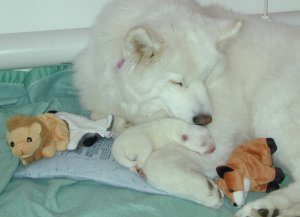 Day 3
New Found Friends!!!
They keep me company when Mom has to leave.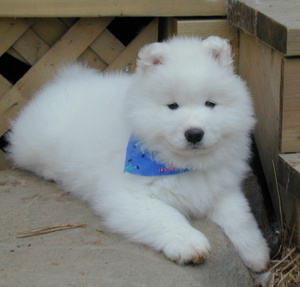 Cheemo sitting on his throne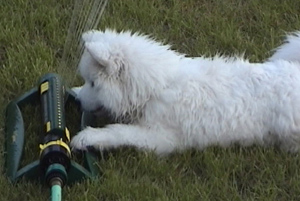 3 months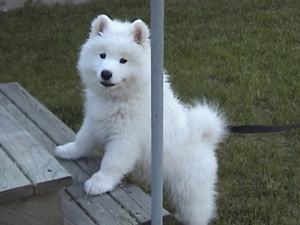 3 months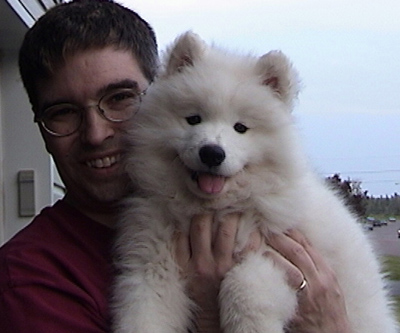 Brad and Cheemo
3 months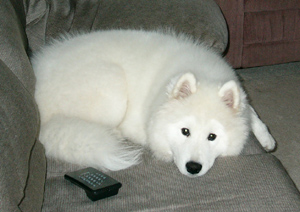 Summer 2003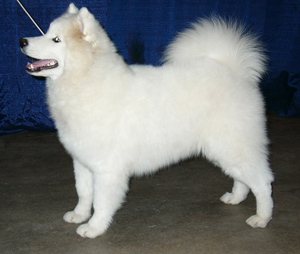 Moncton show - 6 months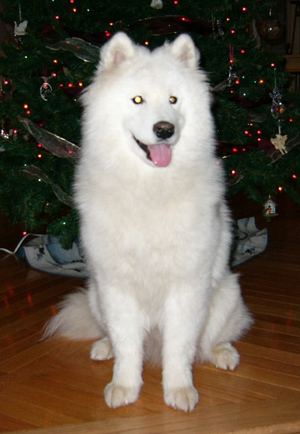 Christmas
December 2003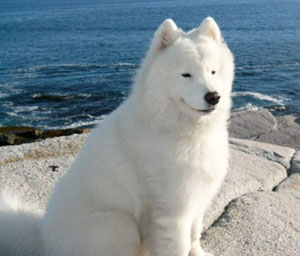 September 2004
Peggy's Cove, Nova Scotia


Cheemo (front), Shiya and Brad
July 2005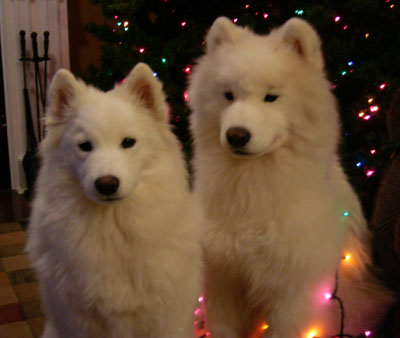 Cheemo and Shiya
Christmas 2005

Keisha