BPIS CH. LINROSA'S LIFE'S JUST A GAME
Ch. Vanderbilt's Moonsplitter x
Ch. Linrosa's Moonlight Serenade


As a 8 week old puppy "Dexter" showed a lot of potential. His outgoing, exuberant personality makes him a fun dog to live with and an exciting dog to show.
With Dexter's masculine head, properly textured, white coat, breathtaking movement, and never ending Samoyed smile he is a hard Samoyed to miss. Judges describe him as a "stunning representation of the breed" and "an exceptional Samoyed puppy".
Many thanks to Jennifer, Dexter's owner, for providing a wonderful home and working with me to prepare him for the show ring. Dexter earned 3 points his first weekend out in Oromocto, NB and the next month went on to win 3 more points and a BPIS!! Yes, we are certainly proud of him and are expecting great things from Dexter in the future.
******************************************
DEXTER'S SHOW CAREER
May 7 & 8, 2011 - Moncton, NB Kennel Club.
Dexter finishes his championship winning Best of Breed under judges Linda Millman and Cheryl Shaw.
November 14, 2010 - Moncton, NB Kennel Club
Dexter wins WD and BW for 2 points under judge Allan Brown.
July 24 & 25, 2010 - Fredericton, NB Kennel Club
On Saturday, Dexter won BW x 1 for one point, under judge Sandy Alexander. On Sunday, he won BOB earning 2 points and BPIG under judge Enrique Filippini, and then went all the way to win BPIS under judge David Olialvo. What a thrill!!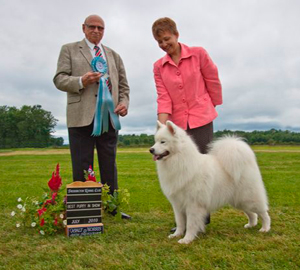 Best Puppy in Show
Judge: David Olialvo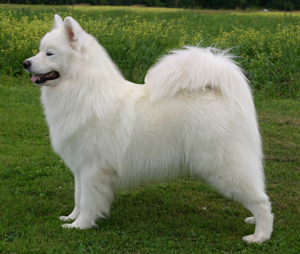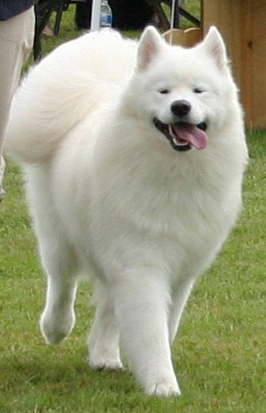 July 2010
June 12 & 13, 2010 - Oromocto, NB Kennel Club
Dexter, debuted this weekend and won BW x 2 for two points and WD for one point under Judge Jack Ireland, Judge Ole Neilson and Judge Donna Conrod.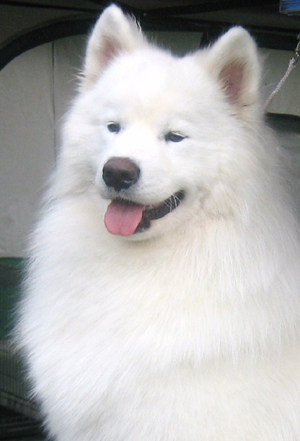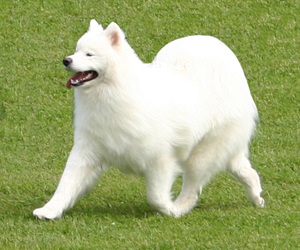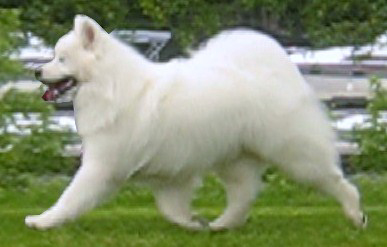 Photo credits: Jennifer Hart, June 2010

Pedigree of : BPIS CH. LINROSA'S LIFE'S JUST A GAME
+--- Am. Ch. Sanorka's Sir Lancelot
+--- Am. Ch. Sanorka Silver Sabre O'Risuko
| +--- Am. Ch. Sanorka's Magic Charm
+--- Can. Ch. Hyalite Cuttinedge Snowghost
| | +--- BISS BIS Can. Am. Ch. Snowghosts Go Better With Coke
| +--- Can. Ch. Hyalite's Classical Jazz
| +--- Can. Ch. Hyalite's Royal Tee
+--- Can. Ch. Snowghosts Rockabilly Rebel
| | +--- Can. Ch. Brydawns Cyan Snow Ghost
| | +--- BISS BIS Can. Am. Ch. Snowghosts Go Better With Coke
| | | +--- Can. Ch. Tuscany's Silver Fantasy CD
| +--- Can. Ch. Snowghosts Coquette
| | +--- Can. Am. Ch. Orenopac's Mogul CD
| +--- Can. Ch. Snowghosts Walkin In Hi Cotton
| +--- Can. Ch. Tuscany's Silver Fantasy CD
+--- Ch. Vanderbilt's Moonsplitter
| | +--- Am. Ch. Wolf River's Falcon
| | +--- Am.Can.Ch. Vanderbilt's Secretariat TT, CGC, TDI
| | | +--- Can. Ch. Shebaska's Vanderbilt Kipmetna
| | +--- Can. Ch. Vanderbilt's Krash Of Thunder CD AAD
| | | | +--- Am. Ch. Wolf River's Falcon
| | | +--- Can. Ch. Wolf River's High as a Kite
| | | +--- BIS Am. Ch. Wolf River's Terra
| +--- Can. Ch. Vanderbilt's Rock Anthem
| | +--- Am. Ch. Sparrow Hill's Taakowah
| | +--- Am. Ch. Wolf River's Siberian Taiga
| | +--- Am. Ch. Wolf River's Ruffian CD
| +--- Can. Ch. Wolf River's Vanderbilt Mesa
| | +--Am. Ch. Wolf River's Drumlin
| + Am. Ch. Wolf River's Fata Morgana
| + --Am. Ch. Seamist's Raven of Wolf River
BPIS CH. LINROSA'S LIFE'S JUST A GAME - "DEXTER"
| +--- BIS BISS Am. Ch. Ice Way's Ice Breaker
| +--- Can. Ch. Polar Mist Break the Bank (USA)
| | +--- Am. Can. Ch. Polar Mist Saucy Minx
| +--- Can. Ch. Vanderbilt's Breakin' Trail
| | +--- Am. Ch. Wolf River's Falcon
| | +--- Can. Ch. Wolf River's High As A Kite,ROM
| | +--- BIS Am. Ch. Wolf River's Terra
| +--- Can.Am.Ch. Vanderbilt's True Lee
| | | +--- Am. Ch. Sparrow Hill's Taakowah
| | | +--- Am. Ch. Wolf River's Siberian Taiga
| | | | +--- Am. Ch. Wolf River's Ruffian CD
| | +--- Can. Ch. Wolf River's Vanderbilt Mesa,ROM
| | | +--- Am. Ch. Wolf River's Drumlin
| | +--- Am. Ch. Wolf River's Fata Morgana
| | +--- Am. Ch. Seamist's Raven of Wolf River
+--- Ch. Linrosa's Moonlight Serenade
| +--- Am. Ch. Sanorka's Moonlight Gambler
| +--- Am. Ch. South'n Mist Headin' For A Heartbreak
| | +---White Magic's Margarita Mandy
| +--- Multi BISS Can. Am. Ch. Echo's Just A Dreamer
| | | +--- Am. Ch. Saratoga's Speed of Sound
| | +--- Am. Ch. Artic Mist's Golden Sunrise
| | +--- Am. Ch. Elmfield's Artic Mist
+--- Can. Ch. Vanderbiltís Moonlight Magic
| +--- Am.Can.Ch. Vanderbilt's Secretariat TT, CGC, TDI
| +--- Can. Ch. Vanderbilt's Krash Of Thunder CD MADC
| | +--- Can. Ch. Wolf River's High as a Kite, ROM
+--- Can. Ch. Vanderbilt's Rock Anthem
| +--- Am. Ch. Wolf River's Siberian Taiga
+---Can. Ch. Wolf River's Vanderbilt Mesa
+ --- Am. Ch. Wolf River's Fata Morgana


produced by The Breeder's Standard by Man's Best Friend Software