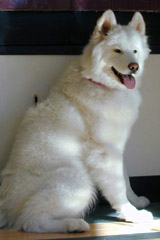 Thank you for your interest in LINROSA Samoyeds. For additional information on the next litter, please complete my Questionnaire.
Puppies are placed with appropriate vaccinations for their age, microchipped, well socialized, and are registered with the Canadian Kennel Club. Puppies are guaranteed and available to pre-approved homes.
Occasionally, I have available a retired show and breeding Samoyed, or one that has been returned to me due to their owners' circumstances. They are usually young to middle aged healthy, trained adults, up to date on vaccinations, microchipped and CKC registered. If you are interested in being considered for one of these Samoyeds, please complete my questionnaire and tell me what kind of dog you are looking for. Prices vary depending on the individual Samoyed. Please email me to discuss what would be the right fit for you and your family.